"I highly recommend Geoff Hansen to anyone who is interested in a beautiful, concrete website. I enjoy working with Geoff because he gets my website done right, and fast, he is professional, and he's easy to work with. The total cost to set up the website was less than I expected, and is worth loads more for the business it brings me."
— Mary Ellen Chadd, co-owner of GREEN SPARK FARM in Cape Elizabeth, Maine
---
Rates
I charge $40 per hour for website design and maintenance. I do my best to keep my prices at an affordable rate. The total bill for a site depends upon the amount of content and revisions we need to do.
The other cost with a site is hosting, domain name and SSL certificate registration. I'm happy to set it up for you, or you can do it yourself.
---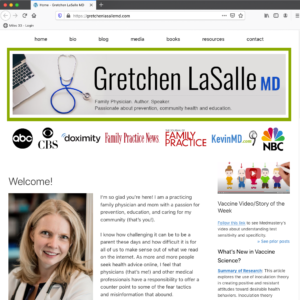 Gretchen LaSalle
• Gretchen LaSalle, a doctor based in Spokane, Wash., approached me to build a website in preparation for the publication of her first book. It accommodates Dr. LaSalle's regular blog in addition to videos and science news related to her passion project – vaccines and immunizations.
• The website is WordPress-based, built on a GeneratePress template and adapts to browsers on desktop or laptop computers, tablets or phones.