"Geoff has been an invaluable resource for creating my online home. His artistic eye creates user friendly web pages that highlight my most significant or timely accomplishments. Geoff has been incredibly punctual, thorough, encouraging and adaptable — by far the best money I have spent in the entire process of marking brand 'Dr. Jill Grimes!' I recommend Geoff with the highest of praise, and absolutely no reservations." — Jill Grimes, author and Austin, Tex., family physician
---
FAQs
How would you characterize the work you do?
I think of my websites as online brochures — they give the reader an idea of what you're about, and who to contact for more information.
Why should I hire you when I can download a free template?
There are lots of templates available on the web, and I use them as well. Adding your photographs, I can use fonts and color to customize a site and make it your own.
I know you charge $40/hour. Do you have a set total price?
No, I don't, because each site is a little different. The final bill depends upon how complicated the site is, and how many revisions need to be done to get the site into shape. In general, my total bill ranges from $250-500.
Are there any other costs involved?
The hourly rate doesn't include hosting of the site, domain name registration or a security certificate. You can do that yourself, or I can do it for you. I charge $325 for two years of service.
Can I get a reference or two?
In my sample sites, go to their Contact pages — feel free to get in touch with any of my clients to get their feedback on my work.
I'd like to hire you. How do we get started?
Contact me — it would be good for me to know what kind of deadline you're under. And I can tell you what my schedule is like. Once we've got a timeline set, we can discuss specifics.
What would those specifics be?
If there's a look you're after, it's good for me to see the kind of sites you like. We can also work from one of my existing templates, which cuts down on your total bill.
It's also good to think of the structure you'd like for the site. Think of the pages as the main points of an outline, branching out from there.
Do you do contracts?
For new clients, I do provide a contract.
When is payment due?
I will mail you an invoice once the site is complete and online. Payment is due upon receipt of the invoice.
Once the site is running, who maintains it?
I would be happy to keep your site current. My fee is $40/hour for maintenance.
---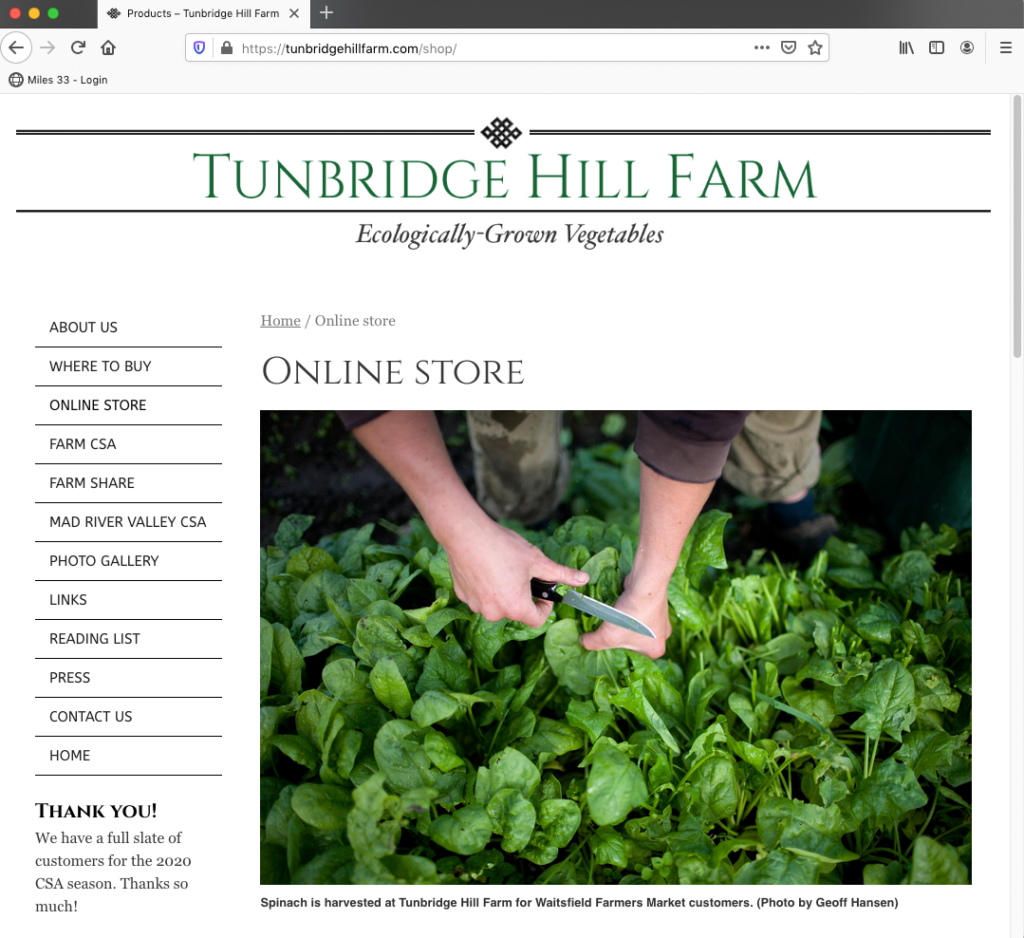 Tunbridge Hill Farm
• For several years I have been maintaining a website I designed for our neighbors, Wendy and Jean Palthey, who have a beautiful vegetable farm. I not only designed the site for them, but I'm fortunate to go photograph their farm on occasion. There's nothing like warm soil on your bare feet!
• The website has been switched to a WordPress-based structure with SSL security, using the GeneratePress template so the site is tablet/mobile-friendly. We recently added a WooCommerce store and shopping cart to the site, which helps Wendy and Jean to receive orders and payments before going to market.